Pakistan's Bayraktar Akinci drone acquisition from Turkiye has major implications for its military vis-a-vis India. Pakistan has so far received around 6-7 drones in April 2023, and actively deployed them. These drones have two versions: Akinci A and B, with B being more advanced. In contrast, delay in acquisition and integration of more efficient the American MQ-9B Sky-guardian drones by India despite the procurement agreement with the US, may have given Pakistan short-term advantage in the High Altitude Long Endurance (HALE) drone category. India should try out all options to maintain its lead in this field.
The Deal 
The recent procurement of Bayraktar Akinci drones by the Pakistan Air Force from Turkey carries substantial implications for Pakistan's military capabilities in comparison to India. To provide an in-depth analysis of this acquisition, it is imperative to delve into the specifics of this development. Beginning with the delivery process, the Pakistan Air Force received its initial batch of Bayraktar Akinci drones from Turkey, commencing in April 2023. This initial shipment comprised approximately six to seven drones, and preliminary reports suggest their active deployment in operational activities by the Pakistani Air Force. This operational deployment marks a significant milestone in the integration of these drones into Pakistan's military apparatus.1
The significance of this acquisition becomes more apparent when considering that in October 2022, a group of 44 personnel from the Pakistan Air Force participated in an extensive training programme in Turkey. Specifically, they attended the sixth edition of the Akinci training programme conducted at Baykar Defence's facilities. This programme plays a pivotal role in ensuring effective deployment and proficient utilization of the Bayraktar Akinci drones by the Pakistani Air Force. It underscores Pakistan's commitment to mastering the operational intricacies of this advanced UAV platform, thereby optimizing its military capabilities. 2
Bayraktar Akinci Drones
The Bayraktar Akinci drone has two variants: Akinci A and Akinci B. The initial consignment delivered to Pakistan falls under the Akinci A category. However, subsequent deliveries are expected to include the more technologically advanced Akinci B drones, equipped with superior engines. The Akinci B variant offers increased endurance, extended operational range, a higher service ceiling, and greater payload capacity compared to the Akinci A. Despite being classified as a Medium-Altitude Long Endurance (MALE) drone, the advanced technical specifications of the Bayraktar Akinci position it as equivalent to High-Altitude Long Endurance (HALE) drones concerning operational capabilities.
This procurement has bestowed a substantial advantage upon the Pakistani Air Force in the HALE drone category, surpassing India's progress in integrating similar unmanned aerial vehicles into its military inventory. India has recently finalized a substantial procurement agreement with the United States, amounting to $3 billion, for the acquisition of 31 HALE MQ-9 drones. This procurement includes 15 Sea-guardian drones for the Indian Navy and eight MQ-9B Sky-guardian drones each for the Indian Air Force and Indian Army. However, as per the most recent available information, India has so far only received two MQ-9A Sea-guardian drones, on a lease basis from the US (in November 2022). The complete induction of MQ-9B drones into the Indian military apparatus is expected to take a substantial time.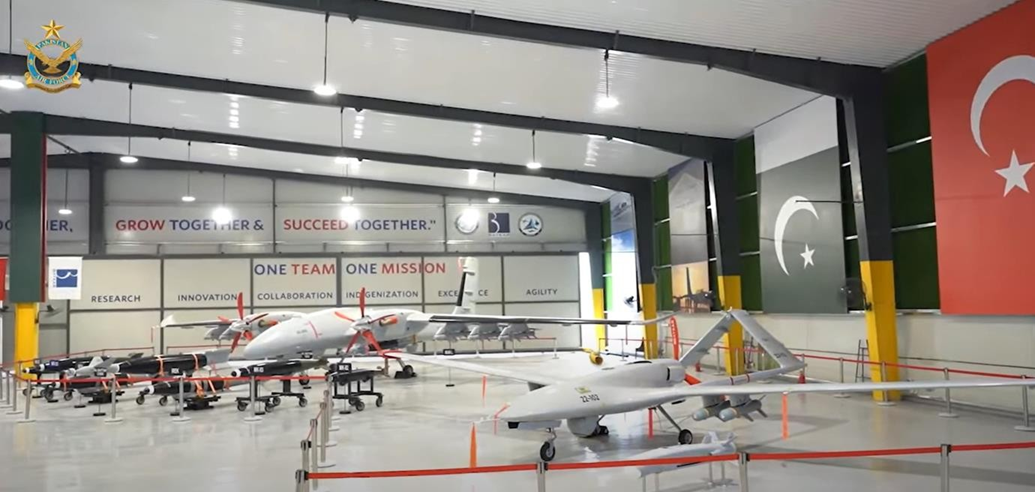 The procurement and operational deployment of Bayraktar Akinci drones by the Pakistan Air Force have conferred upon it a notable strategic advantage in the realm of HALE drones, positioning it ahead of its regional counterpart, India, which has encountered significant delays in assimilating comparable unmanned aerial assets into its military infrastructure. Given India's extended timeline for procuring High-Altitude Long Endurance (HALE) drones, the Pakistani Air Force currently maintains a decisive advantage in fulfilling its long-range reconnaissance and surveillance objectives within the region, primarily attributable to the operational deployment of Bayraktar Akinci drones. 3
The Bayraktar Akinci drone, crafted by Baykar Defence— a renowned Turkish defense conglomerate celebrated for its Bayraktar TB2 drones— exhibits a distinctive technical profile. Propelled by two Ivchenko-Progress Motor Sich AI-450T turboprop engines, each yielding a power output of 560 kW (750 hp), the drone offers a substantial payload capacity of 1,300 kg, facilitating a maximum takeoff weight of 5,500 kg. The platform further boasts an impressive service ceiling, extending to 13,716 meters, and traverses an extensive maximum range of 7,500 km. With an endurance capability of 25 hours, the Bayraktar Akinci proves to be an exceptionally versatile and efficient platform suitable for a wide array of missions, encompassing surveillance, reconnaissance, and offensive operations. However, it is worth noting that the Bayraktar Akinci, despite its advanced attributes, exhibits a marginal performance shortfall compared to the MQ-9B Sky-guardian. The latter is acclaimed for its superior attributes, particularly in terms of endurance, operational range, engine efficiency, payload capacity, and electronic warfare capabilities. This distinction highlights the intricacies within the domain of HALE drones, where the MQ-9B Sky-guardian emerges as a prominent platform.4
Nevertheless, it is essential to underscore that the MQ-9B Sky-guardian's purported technical superiority remains unrealized due to delays in India's acquisition and operational integration of these drones. In stark contrast, Pakistan has already executed the deployment of the versatile and proficient Bayraktar Akinci drones, thereby has early-mover's advantage in this specific context.
India's Own Experience and the Road Ahead 
Given the recent acquisition and operational deployment of Bayraktar Akinci drones by the Pakistan Air Force, India could consider a series of strategic steps given below:
In the spirit of "Atma Nirvar Bharat" and "Make in India", the indigenous drone programme should be expedited. Tactical Airborne Platform for Aerial Surveillance-Beyond Horizon (Tapas) (Rustom-II SR-UAV is a variant of the Rustom-1 optimised for carrying missiles. The UAV has already completed flight trials and only weapon-firing trails of the platform remain pending. The Tapas drones should be put to user trials and inducted as early as possible.  
Another UAV named Archer can fly to a height of 22,000 feet for up to 12 hours, with a maximum range of 250 km.) programme aimed at producing medium-altitude long-endurance (MALE) unmanned aerial vehicle (UAV) on the lines of General Atomics MQ-1 Predator by Aeronautical Development Establishment (ADE). This should reach its logical end.
Short Range UAV Archer a variant of Rustom-1 being produced by DRDO SR-UAV is a variant of the Rustom-1 has already completed flight trials. It can fly at a height of 22,000 feet up to 12 hours, with a maximum range of 250 km. The weapon-firing trials of the platform are yet to be carried out.5
Another ambitious programme, Archer NG, is also being executed by ADE, DRDO. The Archer-NG (New Generation) UAV is a weaponized advanced version of Tapas and can operate at a height of 30,000 feet and can carry various indigenously developed bombs and missiles like Smart Anti-Airfield Weapons (SAAWs) and anti-tank missiles. It can carry a maximum payload of 300 kg and has a range of 250 km with a Line-of Sight (LOS) link and 1,000 km with a Beyond Line-of Sight (BLOS) link. It can also be used for Intelligence, Surveillance, and Target Acquisition Tracking and Reconnaissance (ISTAR) and post-strike battlefield assessment. It has not had any test flight yet.
So far, the drone building exercise has been largely a public sector initiative with the state-owned Hindustan Aeronautics Limited and Bharat Electronics in the lead role while private players like Larsen & Toubro, Triveni Industries, Jayem Automotives and Nucon Aerospace have also been involved to some extent. There is a need to take the public-private partnership forward in drone making as the character of war-making is changing and there is a great deal of emphasis on new technologies driving the thinking on how to gain an advantage in the changed circumstances.
While the process of acquisition of up-to-date HALE drones should be expedited, India must also aim at strengthening its indigenous drone-building capability in the spirit of self-reliance being emphasised at all levels. Tomorrow's India has to demonstrate greater enthusiasm to absorb new technologies, innovate on them, and adapt them in the field of defence and security, that can deter attacks from adversaries and guarantee long-term peace in the region.
Syed Eesar Mehdi is a Research Fellow at International Centre for Peace Studies (ICPS), New Delhi. The views expressed here are his own.